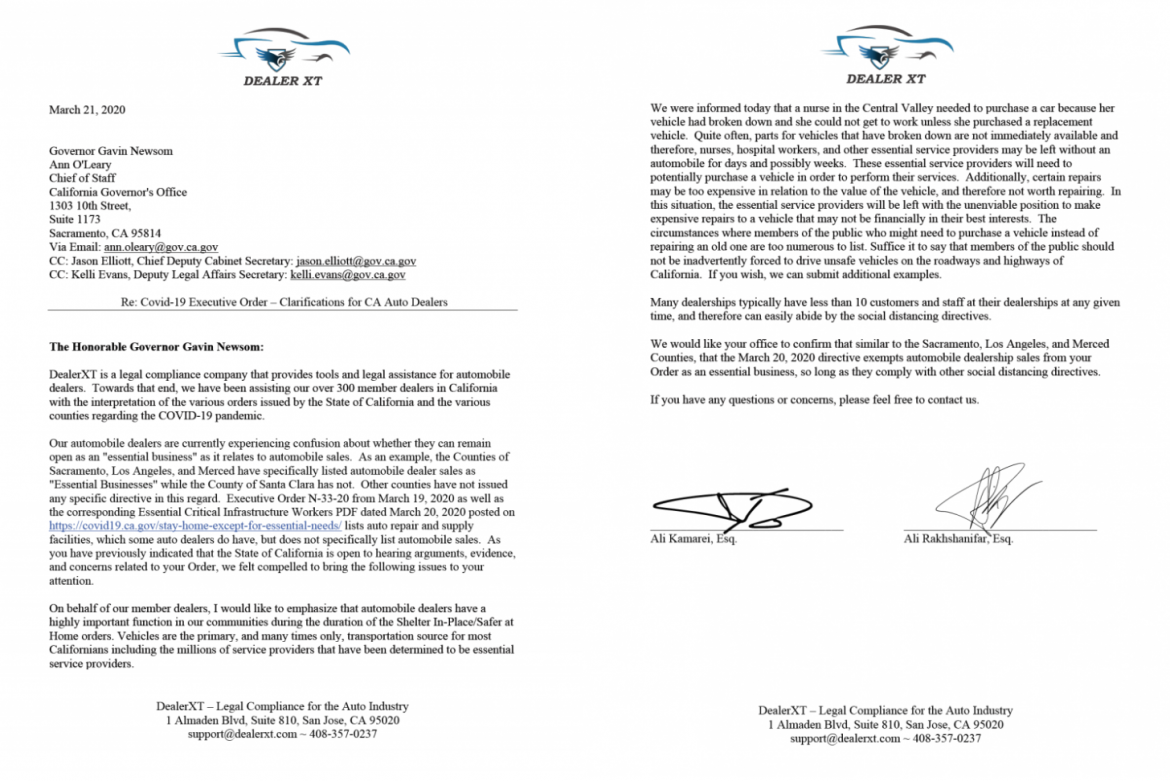 Upon the recent release of the California Essential Businesses List to remain open during the Shelter-In-Place order, DealerXT is urging Governor Newsom to expressly add Auto Dealerships to the list of Essential Businesses.
DealerXT is also attempting to show the Governor's office that vehicle dealers provide other essential service providers the ability to perform their functions in society. Sometimes, simply repairing a vehicle is not enough.
If our readers or dealers have any examples of other reasons why you believe that dealerships should be open during this time of crisis to provide essential services to consumers, such as nurses, doctors, home repair people, etc. please share those stories with us immediately as we will continue to communicate with the Governor's office directly. These stories are important for the Governor's office to hear.
Read the text of the letter below…
"The Honorable Governor Gavin Newsom:

DealerXT is a legal compliance company that provides tools and legal assistance for automobile
dealers. Towards that end, we have been assisting our over 300 member dealers in California
with the interpretation of the various orders issued by the State of California and the various
counties regarding the COVID-19 pandemic.

Our automobile dealers are currently experiencing confusion about whether they can remain
open as an "essential business" as it relates to automobile sales. As an example, the Counties of
Sacramento, Los Angeles, and Merced have specifically listed automobile dealer sales as
"Essential Businesses" while the County of Santa Clara has not. Other counties have not issued
any specific directive in this regard. Executive Order N-33-20 from March 19, 2020 as well as
the corresponding Essential Critical Infrastructure Workers PDF dated March 20, 2020 posted on
https://covid19.ca.gov/stay-home-except-for-essential-needs/ lists auto repair and supply
facilities, which some auto dealers do have, but does not specifically list automobile sales. As
you have previously indicated that the State of California is open to hearing arguments, evidence,
and concerns related to your Order, we felt compelled to bring the following issues to your
attention.

On behalf of our member dealers, I would like to emphasize that automobile dealers have a
highly important function in our communities during the duration of the Shelter In-Place/Safer at
Home orders. Vehicles are the primary, and many times only, transportation source for most
Californians including the millions of service providers that have been determined to be essential
service providers.
We were informed today that a nurse in the Central Valley needed to purchase a car because her
vehicle had broken down and she could not get to work unless she purchased a replacement
vehicle. Quite often, parts for vehicles that have broken down are not immediately available and
therefore, nurses, hospital workers, and other essential service providers may be left without an
automobile for days and possibly weeks. These essential service providers will need to
potentially purchase a vehicle in order to perform their services. Additionally, certain repairs
may be too expensive in relation to the value of the vehicle, and therefore not worth repairing. In
this situation, the essential service providers will be left with the unenviable position to make
expensive repairs to a vehicle that may not be financially in their best interests. The
circumstances where members of the public who might need to purchase a vehicle instead of
repairing an old one are too numerous to list. Suffice it to say that members of the public should
not be inadvertently forced to drive unsafe vehicles on the roadways and highways of
California. If you wish, we can submit additional examples.

Many dealerships typically have less than 10 customers and staff at their dealerships at any given
time, and therefore can easily abide by the social distancing directives.

We would like your office to confirm that similar to the Sacramento, Los Angeles, and Merced
Counties, that the March 20, 2020 directive exempts automobile dealership sales from your
Order as an essential business, so long as they comply with other social distancing directives."
DealerXT is not a law firm or lawyer referral service and cannot provide any advice or opinion about your legal rights. The information found on DealerXT.com is intended for general informational purposes only and should be used only as a starting point for addressing your legal issues. The information is not the provision of legal services, and accessing such information, or corresponding with or asking questions, or otherwise using the Services, does not create an attorney-client relationship between you and DealerXT, or you and any lawyer. It is not a substitute for an in-person or telephonic consultation with a lawyer licensed to practice in your jurisdiction about your specific legal issue, and you should not rely on such Legal Information. You understand that questions and answers or other postings to the Services are not confidential and are not subject to attorney-client privilege. © 2020