DealerXT's Success at the 2023 Digital Dealer Conference & Expo in Las Vegas
Revealing State-of-the-art Products and Revolutionary Collaborations
We are thrilled to recount our exceptional journey at the 2023 Digital Dealer Conference & Expo in Las Vegas, where we engaged with prominent industry figures, presented our state-of-the-art products, and introduced a transformative partnership that is redefining the automotive industry.
Establishing Meaningful Bonds at the 2023 Digital Dealer Conference & Expo
The Digital Dealer Conference & Expo 2023 proved to be an exceptional gathering, providing us with the opportunity to engage and build relationships with respected professionals in the automotive sector. The connections established at the event were priceless, anticipate the promising partnerships on the horizon. The enthusiastic feedback from participants further solidified our confidence in the transformative impact of our offerings.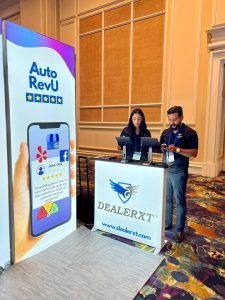 Our DealerXT Staff at Booth 1332
Presenting Our Innovations
At the DealerXT booth, we proudly showcased a battery of profitable solutions designed specifically for car dealerships.
1. Remote Dealer Staffing
Our innovative Remote Dealer Staffing solution captured the attention of industry leaders. This service enables dealers to staff with exceptional bilingual talent based in Latin America, bypassing concerns typically associated with worker's compensation, employee lawsuits, and payroll taxes. We have carefully assembled a pool of high-quality talent that undergoes rapid training in dealership operations, equipping them to efficiently outsource various tasks. Prices start at just $12 per hour.
Additionally, dealers expressed enthusiasm to learn more about our collaboration with OhmniLabs, a renowned creator of Ohmni Telepresence Robots. By integrating this telepresence device with our remote staff, dealers can seamlessly transcend geographical barriers and operate from any location. Dealerships nationwide are employing this technology to enhance the customer experience, employing it as a means to warmly welcome prospective car buyers and guide them through their dealership visits.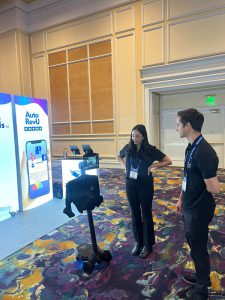 Our Telepresence Device interacting at our Booth 1332
2. SafeDealsAI
SafeDealsAI, another standout solution, offers an AI-driven Automated Legal Disclosure service that provides transparency throughout the car purchase process. Our system seamlessly integrates with third-party vehicle history reports, such as Carfax and AutoCheck, to deliver customized disclosures.
3. AutoRevU
AutoRevU, the latest addition to our lineup of products, focuses on enhancing dealers' reputation on popular platforms like Yelp, Google, and CarGurus. Elevate your car buyer experience and help increase your five-star reviews by sending personalized texts to your customers, simplifying the review process. We integrate with ChatGPT to assist buyers in promptly sharing their reviews.
As we continue to evolve and innovate, we value your insights and feedback. Your support is instrumental in driving positive change within the automotive industry.
Our Booth 1332 at Digital Dealer Conference & Expo 2023 
Hosted Dealer Event
The Digital Dealer Conference & Expo 2023 in Las Vegas served as a testament to DealerXT's commitment to revolutionizing the automotive industry, in particular, our participation in the Hosted Dealer Event.
One of the highlights of our participation was the overwhelming interest that dealers expressed in our innovative solutions. Remote Dealer Staffing, for instance, garnered significant attention due to its ability to connect dealerships with international talents, starting at an affordable rate per hour. The acceptance of this service among Canadian dealerships, present at the Hosted Dealer Event, serves as proof of its market appeal and viability.
Our pioneering SafeDealsAI, an automated platform providing transparent and compliant legal disclosures during the car purchasing process, also stood out among the dealerships in all states.
DealerXT's active engagement at the Digital Dealer Conference & Expo 2023 solidified our commitment to reshaping the automotive landscape, one innovative solution at a time. As we continue to pioneer advancements in the industry, we remain dedicated to empowering car dealerships with the tools and resources needed to thrive in an ever-evolving market.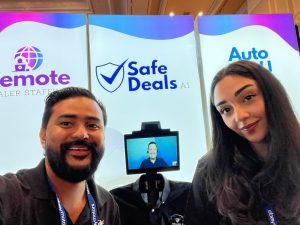 DealerXT Staff at the Digital Dealer Trade Show.